After our recent Global Studies Alumni Career Panel, our Undergrad Advisors compiled insights from our guest speakers as well other career tips (see below!). Thanks again to Elena, Erick, Michael and Nicole for sharing job search strategies with our Global undergrads!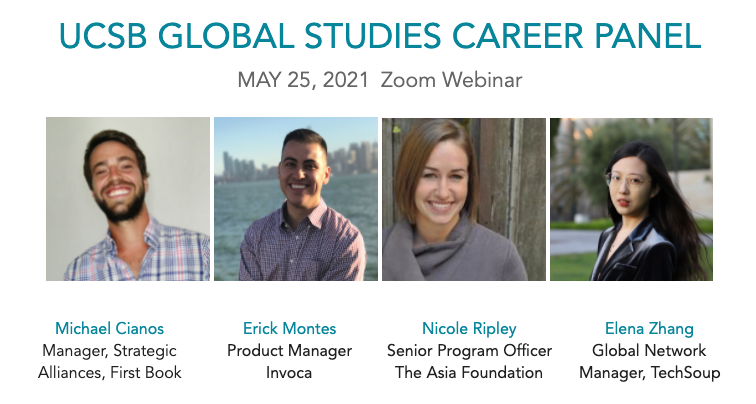 Job Search Resources
Try Premium: You can send direct messages to potential contacts.

Job boards (esp. for companies/facets of the field you're interested in):

Think about companies with an attitude of hiring people to grow, companies willing to invest in teaching you.
Networking Strategies
Personal connections - build your network. (What are your alumni friends up to? Any family members with friends you could talk to?)

Reach out to hiring managers, even applying to jobs above your skill set.

Request informational interviews with people doing jobs or working in fields interesting to you.

Do you have 20 minutes for a quick Zoom? I'm interested in your research; would you be willing to talk to me about that?

Attend company events/industry conferences in the field(s) in which you're interested.

Many of these have been on Zoom due to the pandemic, and they have become much cheaper to attend!

Look into the UCSB Technology Management Program career fair and conference.
TO DO while Looking for Jobs
Connect with people at the company you're looking to apply to via events.

Publish articles online.

Blog to show your Global Studies brand.

Build a portfolio of writing that you can show to potential employers to demonstrate creative and critical writing skills.

"Trust the process" and "don't take rejections personally" -Michael Cianos
Cover Letter and Resume Advice
Submit applications even if you don't think you're qualified.

Mentioning Global Studies insights made panelists unique from other applicants.

Leverage how Global Studies teaches "thinking about the big picture."

Use Global Studies to distinguish yourself from applicants with MBA degrees.

Reflect the company's mission statement back in your cover letter/interview.

But DEMONSTRATE that you're mission-driven, don't just say you are.
Hiring Trends
Unpaid internships are becoming a thing of the past. There are more paid opportunities out there to gain experience.

Greater emphasis on diversity and racial justice, along with emotional Intelligence and "soft skills"

Remote and hybrid working are increasing.

Bring elements of humanity to your interviews to leave an impression (humor can be great). People are hiring people they want to work with.

You are your own best asset (who you are).

Tech industry

"learn on the job" mentality

diversity (removing names from cover letters and resumes; looking more at skills; "hire to grow" mindset)

Multi-talented and multi-skilled are even more in demand now.

Growth in the social impact job market
Final Advice
Regarding grad school:

Do you know you want to go to grad school and what topic you wish to study? Great! If not...

Gain experience before deciding on grad school.

Don't do it just to do it. It shouldn't be, "Oh, I applied to jobs for four months and didn't get anything, so I guess I'll go to grad school."

KNOW what you want to do there. Grad school is very difficult. Better to wait and really know what you're passionate about.

Provided a way for some panelists to pivot to a different stage in their careers

Take advantage of all UCSB has to offer

career fairs

Reach out to UCSB alums: check out the Gaucho Network via the UCSB Alumni

It's a numbers game. Trust your values.

Engage with extracurriculars, and don't get too buried in final projects.

Trust that it's going to be okay. Balance that with strategizing, building networks. Let it take the time it's going to take.

Exhale and live in the moment of where you are. Celebrate!
June 11, 2021 - 3:07pm