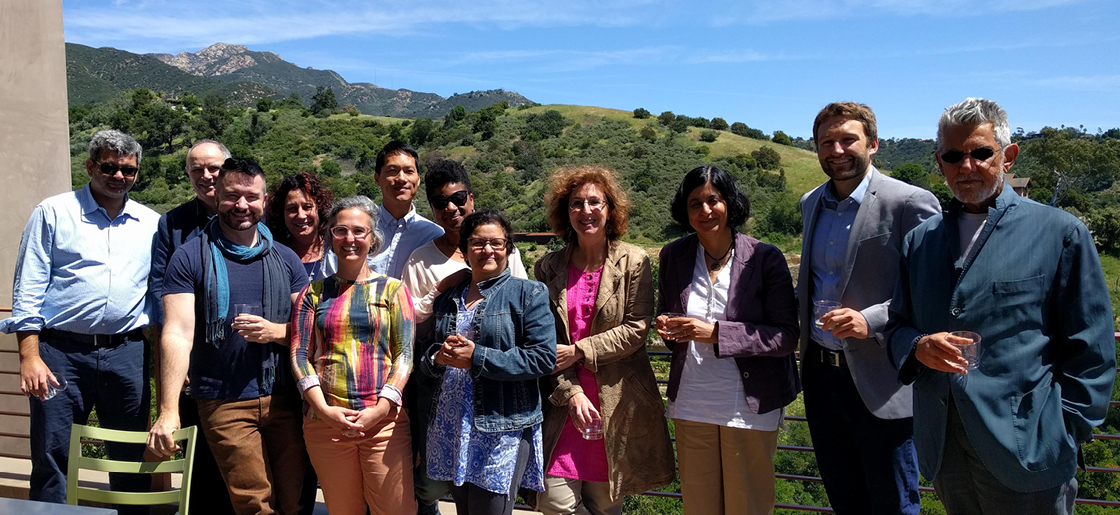 Our degree programs share an academic core and are distinguished by their relative emphases. The academic core of both programs combines multi-method research training with study in three related areas of specialization:
Global Political Economy and Development
Global Cultures and Ideology
Global Governance
Learn more about our award-winning faculty: https://www.global.ucsb.edu/people/academic
Recent Publications
Innovation in China co-authored by Professor Emeritus Richard Appelbaum
Innovation in China (Polity Press, 2018) argues that China's top-down approach is both an impediment and a catalyst to the country's goal of becoming the world's dominant actor in science and technology. Read more about the book featured in UCSB's Current: http://www.news.ucsb.edu/2018/019267/ambitious-dragon?
The Oxford Handbook of Global Studies
Edited by Mark Juergensmeyer, Manfred B. Steger, Saskia Sassen, with Victor Faessel
The Oxford Handbook of Global Studies provides an overview of the emerging field of global studies. Since the end of the Cold War, globalization has been reshaping the modern world, and an array of new scholarship has risen to make sense of it in its various transnational manifestations-including economic, social, cultural, ideological, technological, environmental, and in new communications. Read more...
Science and Environment in Chile by Professor Javiera Barandiarán
In Science and Environment in Chile, UCSB Global Studies Professor Javiera Barandiarán examines the consequences for environmental governance when the state lacks the capacity to produce an authoritative body of knowledge. Read more... 
Edwidge Danticat: The Haitian Diasporic Imaginary by Professor Nadège T. Clitandre
Haitian-American writer Edwidge Danticat is one of the most recognized writers today. Her debut novel, Breath, Eyes, Memory, was an Oprah Book Club selection, and works such as Krik? Krak! and Brother, I'm Dying have earned her a MacArthur "genius" grant and National Book Award nominations. Yet despite international acclaim and the relevance of her writings to postcolonial, feminist, Caribbean, African diaspora, Haitian, literary, and global studies, Danticat's work has not been the subject of a full-length interpretive literary analysis until now. Read more...
The Future of Human Rights by Mellichamp Chair Alison Brysk
Drawing on Professor Alison Brysk's extensive experience as a leading human rights scholar and activist, The Future of Human Rights offers a broad and authoritative guide to the big questions in global human rights governance today. Read more...
The Pragmatist Turn: Religion, the Enlightenment, and the Formation of American Literature by Distinguished Professor Giles Gunn
In
The Pragmatist Turn
, renowned scholar of American literature and thought Giles Gunn offers a new critical history of the way seventeenth-century religion and the eighteenth-century Enlightenment influenced the formation of subsequent American writing. Drawing on a large number of figures from earlier periods and examining how they influenced generations of writers from the nineteenth century into the early twenty-first —including Henry Adams, Frederick Douglass, Emily Dickinson, Herman Melville, William James, Henry James, Kenneth Burke, and Toni Morrison—Gunn reveals how the idea or symbolic imaginary of "America" itself was drastically altered in the process.
Read more...
Multipolar Globalization: Emerging Economies and Development by Mellichamp Chair Jan Nederveen Pieterse
Like a giant oil tanker, the world is slowly turning. The rapid growth of economies in Asia and the global South has led to a momentous shift in the world order, leaving much of the traditional literature on globalization behind. Multipolar Globalization: Emerging Economies and Development is the perfect guide to these ongoing 21st-century transformations, combining engaging and wide-ranging coverage with cutting-edge analysis. Read more...