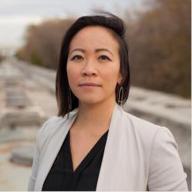 Education
:
Ph.D. Political Science, University of Minnesota (2018)
M.A. Political Science, University of Minnesota (2013)
B.A. English Literature, Vassar College (2008)
Bio
:
Charmaine Chua is Assistant Professor in the Department of Global Studies at the University of California, Santa Barbara. Her research and teaching interests are in technologies of globalization, global political economy, infrastructure studies, empire and imperialism, and ocean studies.
Dr. Chua's research is concerned with the politics of global circulation: how things move, how movement is regulated, disrupted, or facilitated, and why systems that are supposed to provision life might actually distribute inequality and death. Her first book project, Logistics Leviathan: Circulation, Empire, and the TransPacific supply chain, explores the expansion of US-China commercial trade through the rise of logistics, and demonstrates how just-in-time global supply chains are imperial infrastructures that accelerate and intensify economies of carceral, ecological, and racialized violence in the US, China, and the Asia-Pacific.
Chua received her Ph.D. from the University of Minnesota in 2018. She is the Review and Open Site Editor for Environment and Planning D: Society and Space, and is on the editorial and advisory boards of the Journal of Narrative Politics, and Abolition: A Journal of Insurgent Politics. She also collaborates and engages in public education and organizing with the Empire Logistics and Abolition collectives.
Publications
:
Chua, C., Martin Danyluk, Deborah Cowen, and Laleh Khalili. (eds.) 2018. "Turbulent Circulation: Building a Critical Engagement with Logistics." Environment and Planning D: Society and Space 36, no. 4
Chua, C. 2018. "Logistical Violence, Logistical Vulnerabilities." Historical Materialism 24, no. 4 (2018): 167-182. doi: 10.1163/1569206X-12341544
Chua, C. "Lineages of Infrastructural Power: The Logistical Nightmare of Los Angeles." In Daniel Monk and Michael Sorkin (eds.) Between Catastrophe and Revolution: Essays in Honor of Mike Davis. Terreform / Urban Research. (Forthcoming)
Chua, C. "Logistics." In Beverly Skeggs, Sarah Farris, and Alberto Toscano (eds.), Handbook of Marxism, London: Sage Publications (Forthcoming).
Chua, C. "'Sunny Island Set in the Sea': Singapore's Land Reclamation as Colonial Project." In Cowen, D., Mitchell, A., Paradis, E., and Story, B. (eds.), Infrastructures of Citizenship: Digital Life in the Global City, Montréal: McGill-Queens University Press (Forthcoming).
Chua, C. 2017. "Against Localization: Rethinking Compliance and Antagonism in Norm Dynamics." In Epstein, C. (ed.), Against International Relations Norms: Postcolonial Perspectives, New York: Routledge, 2016.
Chua, C. 2016. "The Container: Stacking, Packing, and Moving the World." In Lambert, L. (ed.), The Funambulist. Issue 6: Object Politics.
Chua, C. 2016. "The Smell of Wood: Recuperating Loss in a Country of Forgetting." In Dauphinee, E. and Inayatullah, N. (eds.), Narrative Global Politics: Theory, History and the Personal in International Relations. New York: Routledge.
Chua, C. "Coming Home Again." Journal of Narrative Politics, September 2014, 1 (1), p. 41-43.