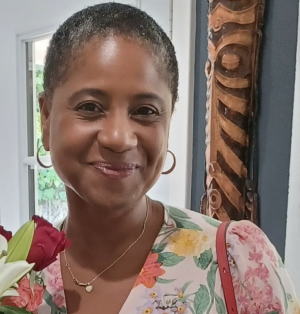 Associate Professor
Associate Director of the Division of Social Sciences Faculty Mentoring Program
Undergraduate Director
Faculty Diversity Officer to the Office of Diversity Equity and Inclusion
Chair of Global Studies DEI Committee
Office Hours
:
Fall 2023: Wednesdays 1pm-3pm
and by Appointment
Specialization
:
African Diaspora
Caribbean literature
Post-colonial Literature
Haitian literature, culture, history
Gender and transnationalism
Migration and identity
Anti-colonialism and Decoloniality
Education
:
Ph.D., African Diaspora Studies, University of California, Berkeley (2009)
M.A., African American Studies, University of California, Berkeley (2003)
M.A., Humanities, University of Chicago (2000)
B.A. English Literature, Hampton University (1999)
Research
:
Clitandre works on theoretical frameworks of the African Diaspora and articulations of the global imaginary. She examines the linked relationship among migration, displacement, and transnationalism with a particular focus on Haiti and Haitian diasporic literature. Her teaching interests include diaspora as concept, anticolonial literature and decolonial struggles, postcolonial Caribbean Women's literature, the cultural contours of globalization, and NGO and Humanitarian intervention in Haiti post-earthquake. Her next project explores the concept of exceptionalism.
Publications
:
Review of Approaches to Teaching the Work of Edwidge Danticat, H-Net Reviews in the Humanities and Social Sciences (H-Haiti, March 2023)
"A Soulful Life at Work" Foreword in Narrating History, Home and Dyaspora: Critical Essays on Edwidge Danticat. Eds. Maia L Butler et Al., University Press of Mississippi, 2022.
"Mapping the Echo Chamber: Edwidge Danticat and the Thematic Trilogy of Birth, Separation and Death," Palimpsest: A Journal on Women, Gender, and the Black International, Volume 3.2, Fall/Winter 2014.
"Silence and False Starts in Times of Disaster," Afro-Hispanic Review, Volume 32.2, Fall 2013.
"Diaspora of Home, Terror and Despair in the Writings of Edwidge Danticat" Violence and Transgression in World Minority Literatures, Rudiger Ahrens, Maria Herrera-Sobek, Karen Ikas, Francisco A. Lomeli (eds). Germany: Universitatsverlag Winter GmbH, 2005.
"Reformulating Haitian Literature Transnationally: Identifying New and Revised Tropes of Haitian Identity in Edwidge Danticat's Breath, Eyes, Memory."  Journal of Haitian Studies 9.2. (2003) 90-110.
"Body and Voice as Sites of Oppression: The Psychological Condition of the Displaced Post-Colonial Haitian Subject in Edwidge Danticat's The Farming of Bones." Journal of Haitian Studies 7.2 (2001) 28-49.
Courses
:
Undergraduate
Global Diasporas and Cultural Change (104)
Global Linkages of the African Diaspora (Global 146)
Haiti: Local Realities Global Influences (Global 147)
Caribbean Women Writers and Migratory Subjects (Global 148)
Global Ethics and Culture ( Global 110)
Graduate
The Human in Humanitarian Aid (Special Topics)
Global Culture, Ideology and Religion (Global 222)
Theories of Diaspora: Migration, Identity, Culture (Global 254)