I'm a prospective transfer student for a future academic year at UCSB; what do I need to know? What kinds of courses should I be focusing on taking to prepare for (Pre-)Global Studies at UCSB, and how do I know what classes will and won't transfer as credit towards the major?
If you are transferring from a California community college, you can use Assist.org to run the agreement between your community college and UCSB. This generates a list of courses that are considered equivalents of each other at both campuses and give you a guide to follow for a smooth transition to UCSB. Run the agreement for the major ("Pre-Global Studies") for the main pre-major and prep for the major requirements; run the agreement for a specific department (for example, Spanish, French, Italian, etc) if you want to find equivalent language courses.
 
If you are transferring from another institution (another UC, a CSU, or a college out of state), you will need to be a bit more creative in seeking out information about what courses can be accepted for transfer for Pre-Global Studies. You can use a sample California community college agreement on Assist.org to give you some basic course titles you would be looking for ((e, not just "a Sociology class" but specifically "Introduction to Sociology" or a History course that lines up with similar date ranges), then contact us for specifics at global-advising@ucsb.edu with a copy of your unofficial transcript.
 
Although it's not part of the pre-major requirements, having a strong foreign language background is one of the best things you can do to be prepared to start in the major as a transfer student. Two beginning-level semesters help, and completing all 4 (beginning and intermediate) semesters in one language is even better. Without this preparation in college-level foreign language, be prepared to begin taking a language as soon as you arrive at UCSB in order to have a chance of completing the full 3-year requirement in your desired graduation timeframe. More information on our foreign language requirement can be found here.
What can I expect during the transfer orientation session during the summer?
Transfer orientation is typically one day (selected from a few options in August before you arrive for fall quarter) where you start the day with some generalized information from the Transfer Center advisors, and then in the second half of the day, you get the opportunity to meet with your major advisors (that's us!) for some major-specific advising.
 
We will typically present some information designed to get you oriented to the major and cover ideas for your fall schedule (based on what you have taken at your previous school), followed by a chance for Q&A, and we often offer chances to book 1-on-1 appointments for advising after our sessions so that you can get more in-depth, individualized advising before you enroll (typically in late August). Please plan to bring an unofficial copy of your transcript(s) to these orientation sessions, and if you decide to book a 1-on-1 appointment later, please plan to email the copy of your transcript to global-advising@ucsb.edu (pdf or clear screenshot is fine) before we meet. We will provide a link to a special appointment booking calendar for incoming transfer students around the time of our orientation sessions.
 
We typically record the Global Studies major orientation information session so that students who cannot make it, who want to attend multiple majors' advising sessions, or who want to reference the information again later in their time at UCSB can have a video recap. You are welcome to watch a previous year's presentation on our YouTube channel; just please be aware that some details may be different in your entering class's presentation but the video will give you a great overview of things we will cover: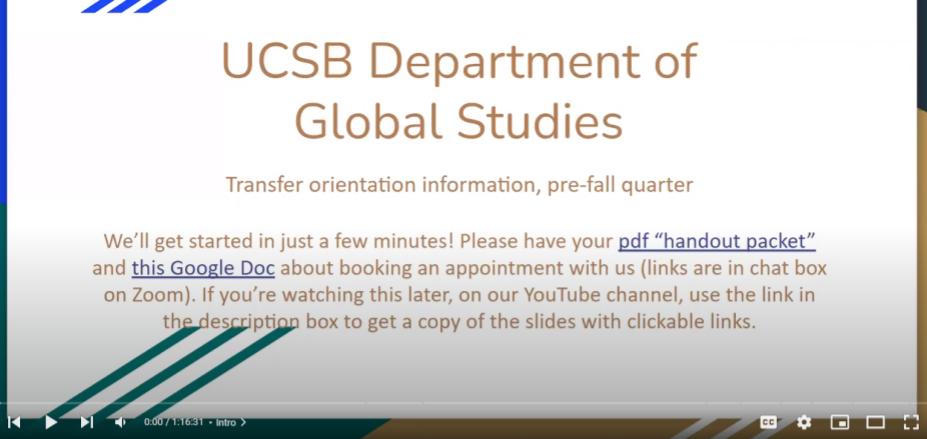 ​
Transfer orientation meeting resources:
Coming soon - we will update this section with the fall 2022 links and information (links to handouts, link to new video, link to special transfer-only appointment calendar, etc) as we get closer to our August 2022 orientation session dates.
I want to study abroad! Do I still have time to do that, and how do I get started?
You definitely still have time to study abroad as a transfer student! Here are a few things to consider:
Transfer students often plan to study abroad for fall semester of their senior year - this gives them time to get acclimated to UCSB and work on some major requirements and still have time to study abroad, then return to finish up. Some students plan to spend their full senior year abroad (and "graduate from abroad"); this is possible in many cases but requires some extra-careful planning and works best for students who arrive at UCSB in fall of their junior year with all (or nearly all) pre- and prep for the major requirements completed through transfer work.
Applications are due for the following academic year approximately 9 months in advance of their program departure date (so, for a fall study abroad program in one academic year, students are applying somewhere between December and March of the previous year, and a bit later for winter/spring programs), so use your first fall quarter as a chance to research program options by visiting the UCEAP website.
For more details (including what areas of the major requirements you can and cannot complete while abroad, and how to get started on your application), please visit our Study Abroad page, and plan to come chat with us during your first quarter at UCSB as needed!